Gedcom Publisher News #013
26 July 2022
In this issue:
Gedcom Publisher Version 2.02
This release includes new features, changes, and bug fixes. Please see the summaries in this newsletter and the Change Log for details.
Virtual Witnesses Feature
This version of Gedcom Publisher includes the Virtual Witnesses feature. The Virtual Witnesses feature adds virtual tags without changing events in your genealogy database. This makes it possible to include significant events from the lives of close family members in the person entry of the subject. For example, you can make parents virtual witnesses to the birth and death events of their children.
Read the Virtual Witnesses help page to learn how to add virtual witnesses to your site.
The screenshot below shows several witnessed events when using the Bullets Format. The virtual events use italic text.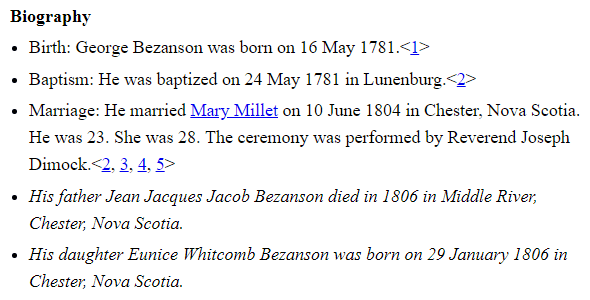 GEDCOM Editors
The new GEDCOM Editors section provides the ability to modify GEDCOM records as Gedcom Publisher reads the input file. You may specify one or more find-and-replace edits by adding Line Editor items to the GEDCOM Editors list.
How to Download
Existing customers may download the current version from the Downloads page.
To use the current version, you need a license for Gedcom Publisher 2.
How to Buy
For purchasing information, see the Purchases page.
---